Pre-Wedding Beauty Treatments To Give You The Ultimate Bridal Glow
Pre-Wedding Beauty Treatments To Give You The Ultimate Bridal Glow
Want to know the best pre-wedding beauty treatments to give you the Ultimate Bridal Glow? We've compiled a quick guide to help you with a few discounts and deals along the way as well!
If there's one day in your life that you want clear, smooth, glowing skin, it's your wedding day. But if there's one time in your life when you're overly stressed out, it's the months leading up to your wedding day. Plus, skin problems and acne flare ups are commonly linked with stress!
We recommend all brides to start thinking about her pre-wedding beauty regime at least six months before the big day. It's enough time to experiment with certain treatments you might not have had the guts (or the funds) to try and get over any adverse effects before you take your wedding photos. It's also plenty of time to see amazing results from treatments that need a few months and multiple sessions to work.
If you start well in advance, treating your hair problems and doing away with them can be easy. To map out your pre-wedding haircare routine, it is important you first understand your concerns.
Major concerns like hair thinning can take as long as 12 months to sort out, while you'll need at least 3-6 months for issues such as dandruff or lacklustre hair. But even if you only have weeks or even days, don't despair! A scalp treatment takes less than an hour and can thoroughly refresh scalp and rejuvenate lifeless locks for the big day. No time for the salon? At home, invest an extra 10-20 minutes per week to exfoliate the scalp with a unique scalp primer like ADV Elixir, and follow your shampoo with an intensive hair mask. Softer, shinier hair instantly!
Just like how plump, dewy skin is the ultimate K-beauty goal, everything PHS HAIRSCIENCE does aspires towards perfect scalp health, because that is the foundation of shiny, healthy hair. While the brand has 15 different product ranges geared towards different hair/scalp concerns, the signature ADV Nutrition range is still the one fans cannot do without. Suitable for all hair/scalp types, the ADV Nutrition range leaves the scalp deeply refreshed and rejuvenated. Scalp health will be restored to an optimal for healthy natural hair growth.
Plus, PHS HAIRSCIENCE is offering an exclusive Trial Kit for HitchPlanner brides on their ADV Nutrition range at the price of $19 instead of $59! See more here.
Similar to haircare, it is essential that brides determine what skin concerns they have before looking into treatments.
If you are acne-prone or have concerns like acne scars, pigmentation, burns or stretch marks, then you need to start tackling these issues at least six months before the wedding.
If you have milder concerns such as tanning, discolouration, light acne, marks or sagging, then begin three months in advance with facials every two to four weeks.
My Cosy Room, an award-winning spa who are known as having the Best Extraction Facial in Singapore promises effective pre-wedding treatments which are effective against maskne, acne, pimples, clogged pores.
Their signature 
Bridal Illuminating Premium Facial
is a 120-minutes treatment that aims to boost skin moisture and give you a fairer, glowing complexion for your big day. This highly raved treatment produces visible and effective results in a single session, removing clogged pores easily without leaving extremely red marks. It is also customisable according to your skin problems such as acne, congested pores, pigmentation or even sensitive skin. Complete this bridal facial with a luxurious alginate peel-off mark, enriched with natural ingredients specially catered to your skin to improve complexion and reduce any redness caused by extraction. You will be able to enjoy a refreshing and cool sensation with this holistic treatment and restore the glow on your face!
Bridal Sparkling RF Eye Treatment (Optional Add-on)
This dynamic Radiofrequency (RF) energy treatment is a non-invasive tightening technology to tackle the early signs of loose or sagging skin. The skin around the delicate eyes is warmed softly (up to 40 degrees) with a blast of radio frequency waves which is highly effective in the reduction of dark circles and eye bags. It also stimulates collagen production, strengthening the skin around the eyes and lifting droopy eyelids after one treatment. Enjoy a signature soothing Crystal Eye Massage to relax your tired eyes and purify your soul. Restore the sparkle in your eyes with this RF Eye treatment!
Most people want to look and feel amazing on their big days, and sometimes having a wedding date on the calendar is good motivation for going to the gym and getting into a fitness routine.
If you want to lose a little bit of weight or feel healthier before your wedding day, it's important to start as early as possible (at least six months in advance of your date) so that you don't feel the pressure to do two-a-days or skimp on eating closer to the date. Remember to always approach exercise and eating habits in a healthy and balanced way.
The best way to stay on track with an exercise routine is to workout with a partner! Luckily you'll be marrying yours!
If you are a little clueless on how to start your fitness journey – The Posture Lab offer a 3-month training package specifically for engaged couples. Find out the full details here.
Most brides choose to wax before their wedding because waxing removes hair for a longer period of time and a pre-wedding wax has better results than any other hair removal method. Waxing removes the hair at the root and not just at skin level and typically lasts anywhere from three to six weeks so is the ideal hair removal option for your wedding day and honeymoon. We recommend to wax 2-3 days before your big day – it's a huge no-no to wax on the day of the event, especially if you are new to waxing!
Bride or not, dark underarms are every woman's worst nightmare! If you have a dark shadow around your armpit area, you probably don't feel comfortable wearing anything that would show it.
As a bride, you need to prevent and reduce underarm darkness. Most brides like to wear a strapless wedding gown, and underarm darkness will ruin your look, it's just not pleasant!
To get rid of underarm darkness before you throw that bouquet on your big day you first need to figure out the main causes.
Underarm darkness can be caused by skin issues like hyperpigmentation but it can also be as simple as shaving your underarms which is why it's recommended that brides begin waxing before their big day.
Dark underarms can also be due to build up of dead skin and the type of deodorant you use.
A simple solution to underarm darkness is to get it professionally whitened – find out more about Whitening treatments for underarms here.
Leaving your nails till the last minute is a common bridal mistake. Once you've decided on your wedding nail look, give yourself ample time to make it a reality.
Although, it is tempting to leave your nails for your actual wedding day – it is actually recommended that you can them done 1-2 days before your actual day. That way, you can focus on other things on the morning of your wedding and not worry about wet polish while you change into your wedding dress or outfit.
There are many options for Bridal Nails including bespoke nails that can be matched to your wedding dress.
If you don't want to fuss with the extra weight of fake lashes crowding your eyes, a lash lift might be for you. A lash lift is a professional treatment which semi-permanently curls your lashes. No extra lashes are added on — the effect comes from lifting your lashes from the root and the results can last up to a month!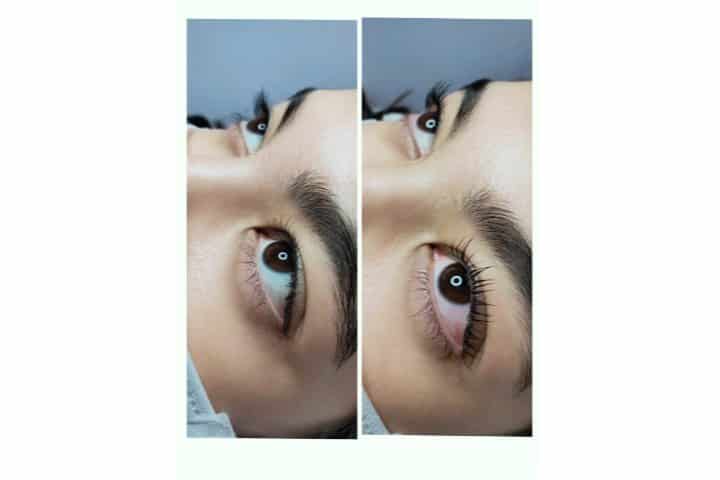 One 45-minute session will keep your lashes lifted for at least a month without using fake eyelashes or tons of mascara. Full details
here
.
Booking and scheduling all these treatments can be a stress in itself. HitchPlanner has worked with Queen's Market in the Tanjong area to curate Japanese beauty treatment packages to suit every bride's needs. Plus, all their equipment and materials are imported from Japan to guarantee safety and quality.
You gave undivided attention to the big details of your wedding, like your venue, the decor for your main event, and the food being served, while also paying attention to smaller things like invitations, fittings, hair and makeup and everything in-between.
While this long to-do list was an important one, you may have forgotten to take care of something even more crucial—yourself. The run-up to your special day presents a good excuse for some much-needed pampering. A healthy diet, fitness regime, skincare and haircare routines—you need to closely monitor it all.